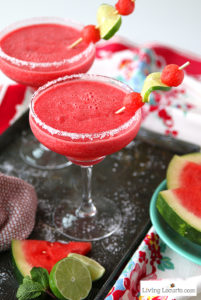 The best Frozen Watermelon Margaritas! Perfect cocktail recipe for a hot summer day.
What you'll need to make Frozen Watermelon Margaritas:
2 cups frozen watermelon
2 cups fresh watermelon
3 tablespoons Lime Juice
3 tablespoons Simple Syrup
1 tablespoons Triple Sec
1/2 cup Tequila
limes and salt for the glass rim
Slice Lime into wedges and rub around rim of a glass.
Dip glass rim into salt.
Combine watermelon, lime juice, simple syrup, tequila and triple sec in Jimmy Buffett Margaritaville Blender.
Pour your frozen watermelon margarita into a glass and enjoy!